Use ArtWorks to hire RISD talent. Top RISD ArtWorks features:
ArtWorks gives you desktop or mobile access wherever you are and whenever you need it. Simply load the log in page on any device to get started. 
Post various kinds of professional creative opportunities in ArtWorks. Students and alumni can easily view your postings and apply.
Participate in recruiting events to connect with RISD talent for your current or upcoming hiring needs. 
The RISD Career Center is here to support you. Send questions, concerns or feedback on the new platform to artworks@risd.edu for prompt assistance. 
I am new to hiring from RISD. How do I access ArtWorks and post opportunities?
Choose Employer Sign Up .
Follow the instructions for your new login.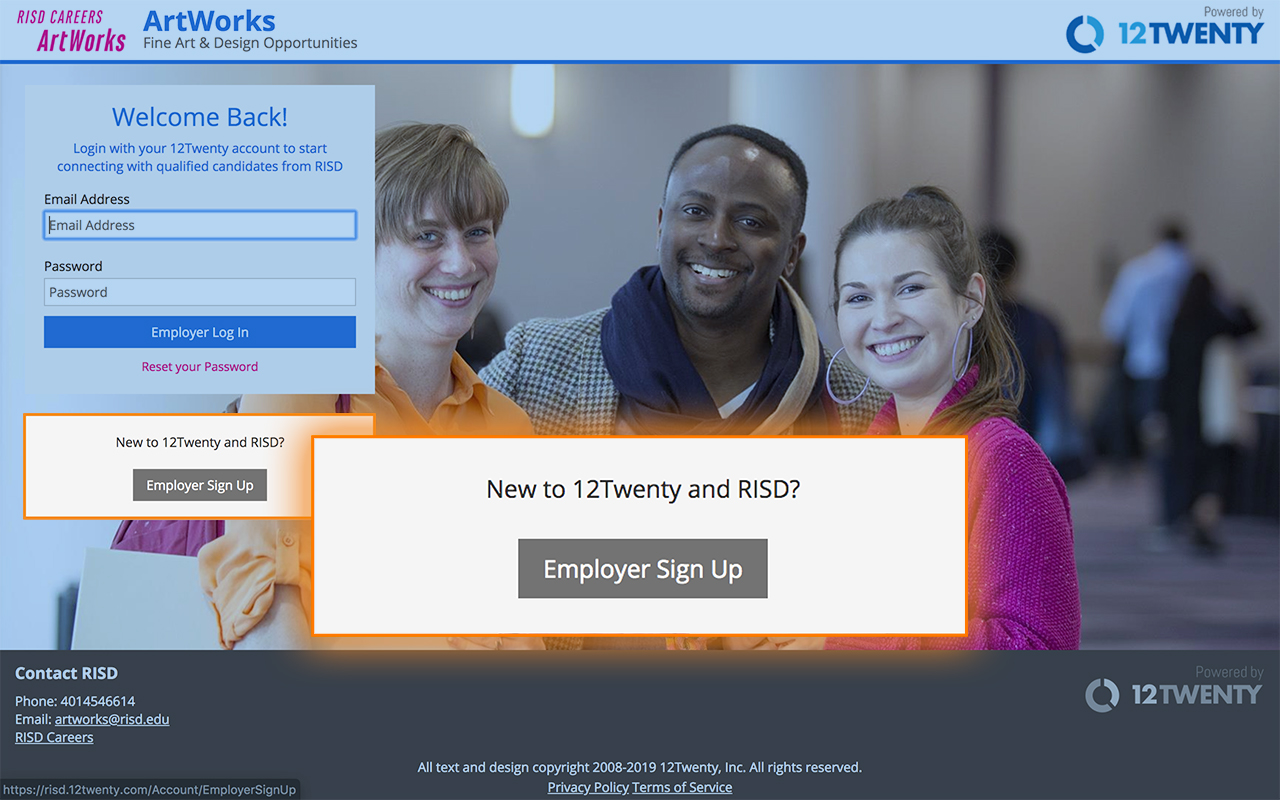 RISD Career Center Principles of Social Equity & Inclusion for Employers, Recruiters, and Organizations
We value working with employers, recruiters and organizations who are committed to supporting…
…Black Lives Matter.
…BIPOC employees.
…LGBTQIA+ employees.
…international employees.
...differently abled employees.
...social equity and inclusion.
…gender equality.
…pay equality.
…the acknowledgement of climate change.
…fairness and transparency in recruitment, hiring, award and grant processes.
…reasonable deadlines and notifications during hiring and award processes.
…informed and responsible decision making by candidates.
…the professional development of artists and designers.
…sustainable relationships that are respectful and transcend transactions.
…professional association standards and principles.
We support social equity and inclusion for our students and alumni by…
…having you post all opportunities to our job board – ArtWorks.
…not selecting specific students and alumni as candidates for your opportunities. 
…being impartial and transparent throughout your hiring process.
…protecting confidentiality throughout the hiring process.
…having you clearly articulate and widely disseminate your policies and guidelines.
…providing access and exposure to professional networks and opportunities.
…educating students to make informed decisions regarding career opportunities.
…providing professional development opportunities for artists and designers.
…having you comply with laws associated with local, state, and federal entities, including but not limited to EEO compliance, immigration and affirmative action. 
…our commitment to RISD's Social Equity & Inclusion (SEI) initiatives, goals and resources.
…our alignment with the National Association of Colleges and Employers' (NACE) Principles for Ethical Professional Practice.
Career Center Policy on Student Competitions
RISD will not promote a competition unless the sponsoring organization/company has verified that the following apply:
The call for entry must clearly state all the rules governing contest entries, deadlines, policies regarding return of artwork, any and all fees for entry, and the criteria for judging.
The call must also state what is expected of winner (s) with regard to transfer of ownership rights. If rights are to be transferred, for any amount of time, winners must be compensated at fair market value or by other compensation mutually agreed to before the transfer.
Entrants other than prize winners will not be required to transfer any rights for any period of time. If any work for which rights have not been transferred is to be displayed on the web, contest sponsors will provide watermarking protection.
Contests should avoid, until the final stage, the creation of work "on speculation." Tearsheets, photographs or digital representation of existing work should be requested in order to judge the appropriateness of entries. High resolution digital work should not be required in initial rounds, but only after finalists have been chosen.